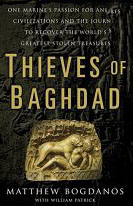 Earlier this week, I attempted to read Matthew Bogdanos's Thieves of Baghdad. I admire Bogdanos. I really do. I find his tireless efforts to recover Iraq's stolen artifacts and to bring attention to the illicit antiquities trade incredibly noble. I am so grateful that we have him and others like him serving in our Armed Forces to keep the cultural heritage of occupied countries safe. I wish there were more people like him in every military force. But, unfortunately, I think his book is unreadable.
The first two chapters were interesting, but crudely written. I kept chugging, thinking maybe the quotes from Classical authors interjected every five lines might subside after the introductory chapters. I snorted at his comparison of analyzing crimes scenes to losing your virginity (you can only do it once? It's not that funny, Bogdanos), and I was moved by his interactions with Dr. Nawala al-Mutwali, the then-director of the Iraq National Museum. But then he felt the need to cover his entire life's story, including blow-by-blow details of his experience in New York City during September 11, 2001, which were often graphic and disturbing. After I had a good cry about 9/11 (I lived outside D.C. at the time; that stuff stays fresh, man) I was like, "I didn't read this book to cry about 9/11 again. What is his freaking point?"
Well, my freaking point is that there seem to be a lot of really badly written books out there about the illicit antiquities trade, but you don't have to waste hours of your life figuring out which ones are useless. I've already done that for you. I've included a new page (next to the Resources page) with a list of books I have found most helpful and most intelligently written on cultural heritage, the illicit antiquities trade, archaeology, museums, etc. Because I am always reading, the list is always being updated.
If you have any suggestions, let me know! I'm currently working on The Medici Conspiracy by Peter Watson, Master Pieces, by Thomas Hoving, and Whose Muse?, edited by James Cuno.